Well, I'm back to the blog. Of course, as my dad commented on my last post, it is true that there were at least three computers available at all times during our visit to Austin. However, it was nice to take a break and just relax for a few days.

When I logged on today, I discovered that Lindsey at Better After featured my china hutch makeover on her blog, which I have to admit makes me feel slightly famous. So now I can officially use this button on my blog: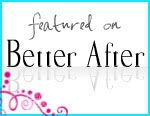 I have lots to talk about concerning our very nice trip to Austin, but at the moment my boys are clamoring to use my new netbook that I bought with my Christmas money...so I'll save all that for later.